You can add your own stamps to PDF reDirect Pro. All the stamps included in PDF reDirect Pro were created by using Microsoft Word.
You can download my MS Word Stamp Files [
HERE
]
INSTRUCTIONS:
Step 1 - Create a New Stamp
* Use an application such as Microsoft Word or Corel Draw to create the new stamp.
* For smaller stamps, select a smaller paper size (such as the "Stamp" paper sizes).
* Convert the Stamp to a PDF once you are happy with it.
Step 2 - Add the Stamp to the Stamp List
* Click on the "Add" button in the Stamps Preference area.
* Select the PDF file you created in Step 1 above.
* Change the settings as required.
Step 3 - Apply the stamp to a PDF
* Create a New PDF, or Add an existing PDF to the merge list.
* Select the stamp from the stamp list
* Click "Save" to add the stamp to the PDF in the Merge List.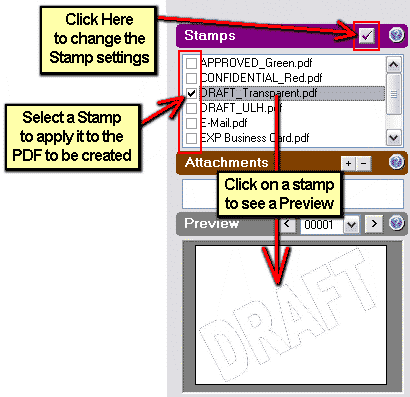 Edited by Michel_K17