The callback may be implemented as a SUCCESS/FAIL return code in the ActiveX component. (It probably won't be a true callback as an independant thread, although I will investigate that route).
OK, the moment you've been waiting for.

All of the download links have been updated with the added paper size. I have not updated the version number because all of the code stayed the same, so it will continue to say v2.0.14.
Nonetheless, the "A4_Edge2Edge" paper size has been added. Simply download the program again, and re-install (on top of the current installation should be OK). Consider re-booting first to ensure that the printer spool has not locked-out the printer (ignore this if you have not used PDF reDirect Pro since the last time you rebooted).
Here are step-by-step instructions:
Re-install PDF reDirect Pro.
Start MS Word and load your document.
Select "Print"
Make sure the "PDF reDirect Pro v2" printer is selected.
"Cancel" printing for now.
Select "Page Setup..." in the "File" menu
Select the "Paper Size" tab, and choose the "A4_Edge2Edge" paper (see picture below)
Click on "OK"
Select "Print" again
Click on printer "properties" and check to make sure that the "A4_Edge2Edge" paper is selected (select it manually if it is not).
Continue printing - the graphic should now go all the way to the edge. (Sample PDF)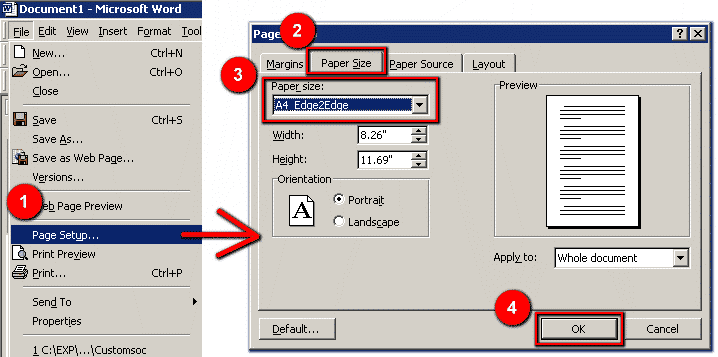 Edited by Michel_K17