PDF reDirect Professional
v2.5.2 is now
available
(20 Nov 2010) for download. This version is officially released.
The upgrade from v2.5.0 to v2.5.2 is [HERE] (2.2MB)

The full v2.5.2 installation program is [HERE] (7.1 MB)
You can use this installation program to upgrade your existing installation (ie, no need to remove the old version first).

The installation program, and all files included have been scanned by a virus checker. The report is shown in the next post
WHAT's NEW with v2.5.2 (since v2.5.0)

The biggest news is (by customer request) is the conversion of the Save button into a multi-function button where you can change what the button is used for.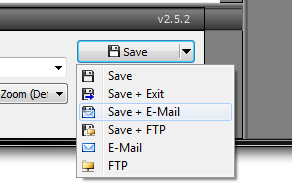 Here is the full list of changes:

NEW: User can now e-mail or FTP directly from the Main Save Button.

FIXED: "Invalid Treenode" error when opening a PDF which had page 1 extracted from the original PDF.

FIXED: Bug that showed an error message when Command Line contained a filename exactly 3 letters long.

FIXED: Minor typo in French language file.

FIXED: Upgrade not running automatically after download is completed.

IMPROVED: Updated the Portuguese-BR language file (thanks to Luciano K).

IMPROVED: Made default the "Overwrite Existing File (Give Warning)" setting for new installations.

DOCUMENTATION: Added instructions for IT Administrators for network/server installation.

DOCUMENTATION: Mentioned that silent "/S" install switch must be capitalized instructions in the help file.