Hi WG,
Yes, there is a way, although that is a feature only available in PDF reDirect Professional. If you click the "Promotion" button for PDF reDirect Pro in PDF reDirect Freeware, you can switch to the "Pro" version just for a few minutes to do what you are asking, and then you can switch back to the Freeware version when you are done (via the Preferences menu).
So, in the Pro version, select the file in the "Files" list box, and click the Page Extraction button. There, you select to make a new PDF with just the pages you need.
Here are some screenshots: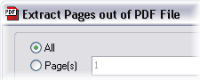 I hope that helps!