Meeting Timer v1.6.6 is now available (7 Dec 2013) for download. This version is officially released.

WHAT's NEW (since v1.6.1)

v1.6.6 (12/7/13)
NEW: Added ability to edit the preset buttons to custom values.

FIXED: Meeting Timer not showing high DPI screens such as the Microsoft Surface Pro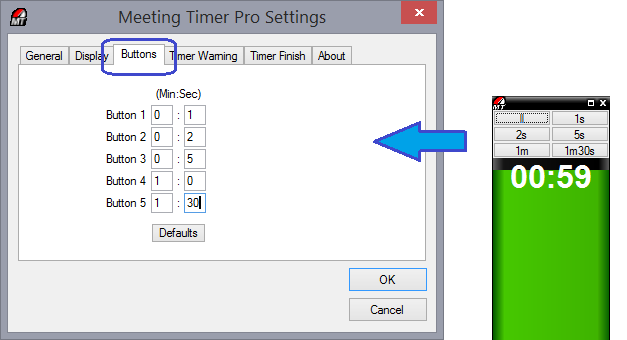 v1.6.4 (2/24/13)
NEW: Added option to "Show Standard Windows Border"

NEW: Added option to "Show Count Down Timer in TaskBar" (Win7 and Win8 only)

FIXED: Count Down Timer is now green instead of blue to match Windows Standard Colors

FIXED: Display freezing for users that have a "Mouse Move" utility to keep PC from going asleep

FIXED: Count Up Timer not showing Hours & Minutes past 1 hour (just like Count Down Timer)

FIXED: Tasbar Icon appearing when showing the Settings, and then staying displayed.

IMPROVED: Updated language files to Unicode so that complex languages and accents are fully supported.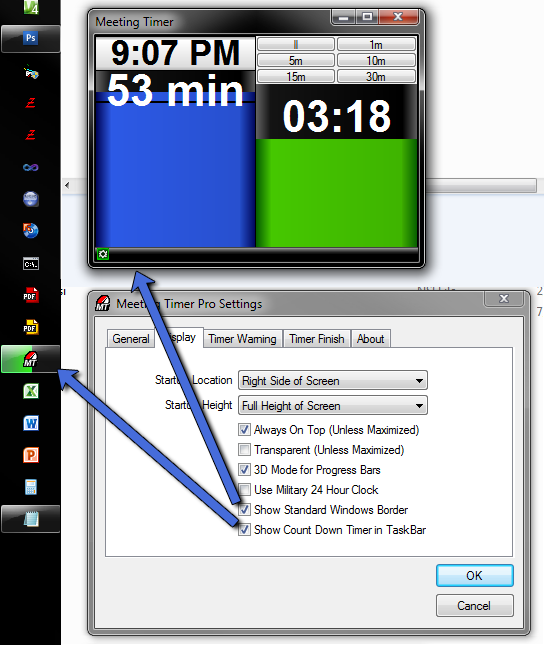 v1.6.3 (7/31/12)
NEW: Added Spanish (Espanol) language file

IMPROVED: Dropdown Start/End Meeting times do not show unreasonable past times

v1.6.2 (6/4/12)
NEW: Added Auto-restart feature to the countdown timer (or after the break is over) - perfect for users of the Pomodoro time management technique.

NEW: Added a feature to start the break timer automatically after countdown timer completes.

NEW: Holding [SHIFT] key now allows to decrement the timer
FIXED: inability to edit/create customized language files in Windows 7 (language files now stored in the AppData\Meeting Timer folder)

IMPROVED: Combo boxes now Auto-dim when Associated Checkbox is not selected in the settings.

IMPROVED: meeting area now says "Wait" when the meeting has not yet started, and shows how long before meeting starts