Hi Eric,
No worries, you are perfectly fine. Your idea is already on my "to
do" list, and definitely possible.
For now, I would aim to stick it to the side, as narrow as
possible and transparent, or to make it as small a box as possible, in a
landscape format which causes the two columns to be shown side-by-side.
Here is what it looks like then (which is fairly small):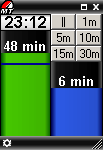 So at least, you can stick that in the corner of the screen. To
resize, just grab the sides, or you can also resize from the upper-left and
lower-right corners. There is an option in the settings to remember the
last position so you don't have to resize it manually every time you run
the program.
For the future, the arcs is a possibility. I am also looking at a
"micro mode" which would be a single line on the edge, and to be able to
minimize to the system tray. All of these improvements are not for the
immediate future as I have started a new project.
I hope that the interim solution helps though.
Michel