After a lot of troubleshooting, we found the problem to be that the setting "Run this program as an administrator" for the PDF conversion engine program (Capture.exe) was turned on (we are not sure why).
Because PDF reDirect begins from the Printer, it cannot show the elevation warning to the user to run as administrator since printers do not have access to the user's screen to show the elevation message. Therefore, it is critical that all applications (Capture.exe, PDF reDirect.exe and PDFR_Printer_Cmds.exe) do not have that setting enabled. By the way, there is no reason to run these programs as an administrator.
Here is a screenshot of what this this setting should look like: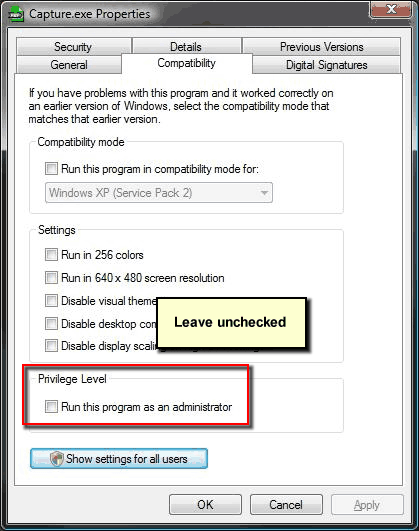 Here are some additional comments from the user who had this difficulty:
I uninstalled, rebooted and reinstalled with UAC on. Everything works like it should. The confusing part is why after many uninstalls and reinstalls did the exe's hold the administrator setting. I can only figure that when I first installed I used the zip file I originally used with XPSP2. I must have tried setting the exe's to Use as Administrator to try to get it to work. Because I had uninstalled/reinstalled many times I never thought that those settings would be retained. This must be the 'Great Progress of Microsoft' in action. There are many things about Vista that are a real pain in the neck. UAC is one of them and this retention of settings may be another. Oh well, another tidbit to store in my mental toolbox of computer knowledge.

Again thanks for the extraordinary effort you expelled.